Google
How to Delete a Page in Google Docs? Delete Blank Page
Sometimes, you may want to print a Google Doc, but you notice unwanted text or space or page breaks. Well, there is an easy fix for removing a blank page in Google Docs. Whether it's Android or iPhone, PC or Laptop. The technique described below remains the same.
No matter what purpose a document is for, if you've spent a lot of time on it, you'll want it to be presented in the best way. This mostly depends on formatting. But sometimes spacing, margin, alignment or uneven page break could cause an empty Page at the end
To remove such a page, you might have tried different methods. You never know, that additional page can be the barrier between you and a better letter grade, a promotion, or even a book contract.
Depending on why the additional page was added in the first place, there are a few ways to delete a page in Google Docs.
How to Delete a Page in Google Docs?
Here are some tips on how to go about it on a Mac or PC using Google Docs and any browser.
If your project has too much information and you discover one or two pages that you might easily eliminate, eliminating that excess page is fairly easy.
Simply select the undesirable text or picture with your cursor by clicking and dragging, then press the Backspace or Delete key on your computer to remove it. Both the pages containing it and all of its content will be erased.
If you remove a page's worth of content from various project sections, this will still work.
The space you save by cutting off a few paragraphs here and there can ultimately fill up a whole page.
Verify that you also remove any empty line breaks. A line break will still occupy space even if it doesn't contain any content. There is also a way to convert PDFs to Google Docs.
Remove a Page Break:
It's likely a page break that you accidentally created if you feel like a blank area is taking up a page that you don't want and can't enter in.
It's easy to remove a page break: Simply position your cursor directly behind the empty space, then press the Backspace or Delete key to make it disappear. The following content should then advance back up to the appropriate page.
How to Remove Unwanted Blank Space in Google Docs?
A frequent problem with Google Docs is discovering an extra blank page at the conclusion of your work. If you wish to print your Google document, you can always leave that page off. However, you generally won't want to have a blank page at the conclusion of a document that you're sharing for business.
You can attempt a few different methods to get rid of the blank pages at the conclusion of your manuscript.
Change the Spacing Format in Google Docs:
In Google Docs, you may choose how much white space to include between paragraphs. The only way to get rid of this gap is to adjust the custom spacing parameters. You may highlight this empty area, but neither the Backspace nor Delete keys will do anything.
If you are satisfied with the paragraph spacing elsewhere, choose the complete last paragraph.
Instead, click Ctrl+A on a Windows computer or Cmd+A on a Mac to modify the spacing throughout the whole page.
Select Custom Spacing under Format > Line & Paragraph Spacing.
After setting After to 0, click Apply.
Your additional page ought to vanish at this point.
How to Adjust Margin in Google Docs
There might be a tonne of vacant space on the last page of your document if you only have a line or two on there. If you don't want to change the text, you may resolve this problem by adjusting the margin size.
To change the margins in Google Docs:
Select File > Page Setup.
The margins on the left and right should be somewhat larger. Altering the top and bottom margins is an alternative.
Select OK.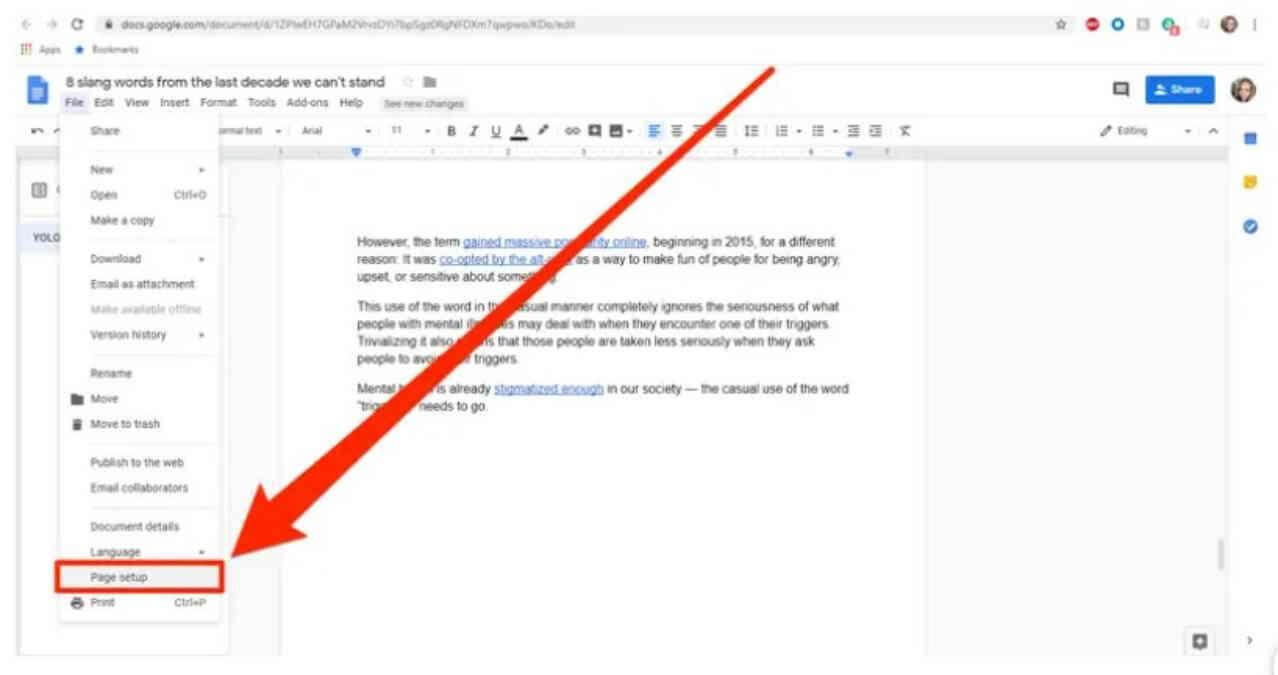 The bottom of the last page should now include your last lines. If not, repeat the previous procedures while slightly reducing the margins.
Adjust Page Break
Page breaks that aren't intended frequently result in blank pages. However, while reading your work in print layout view, you cannot really see page breaks.
To turn off the print layout view on a Google document:
To remove the checkmark, select View and then Show Print Layout.
Your document's page breaks will now be represented by grey lines.
Press Backspace after clicking on one of the page breaks.
A different option is to click above one of the page breaks and then hit Delete (or Fn+Backspace on a Mac).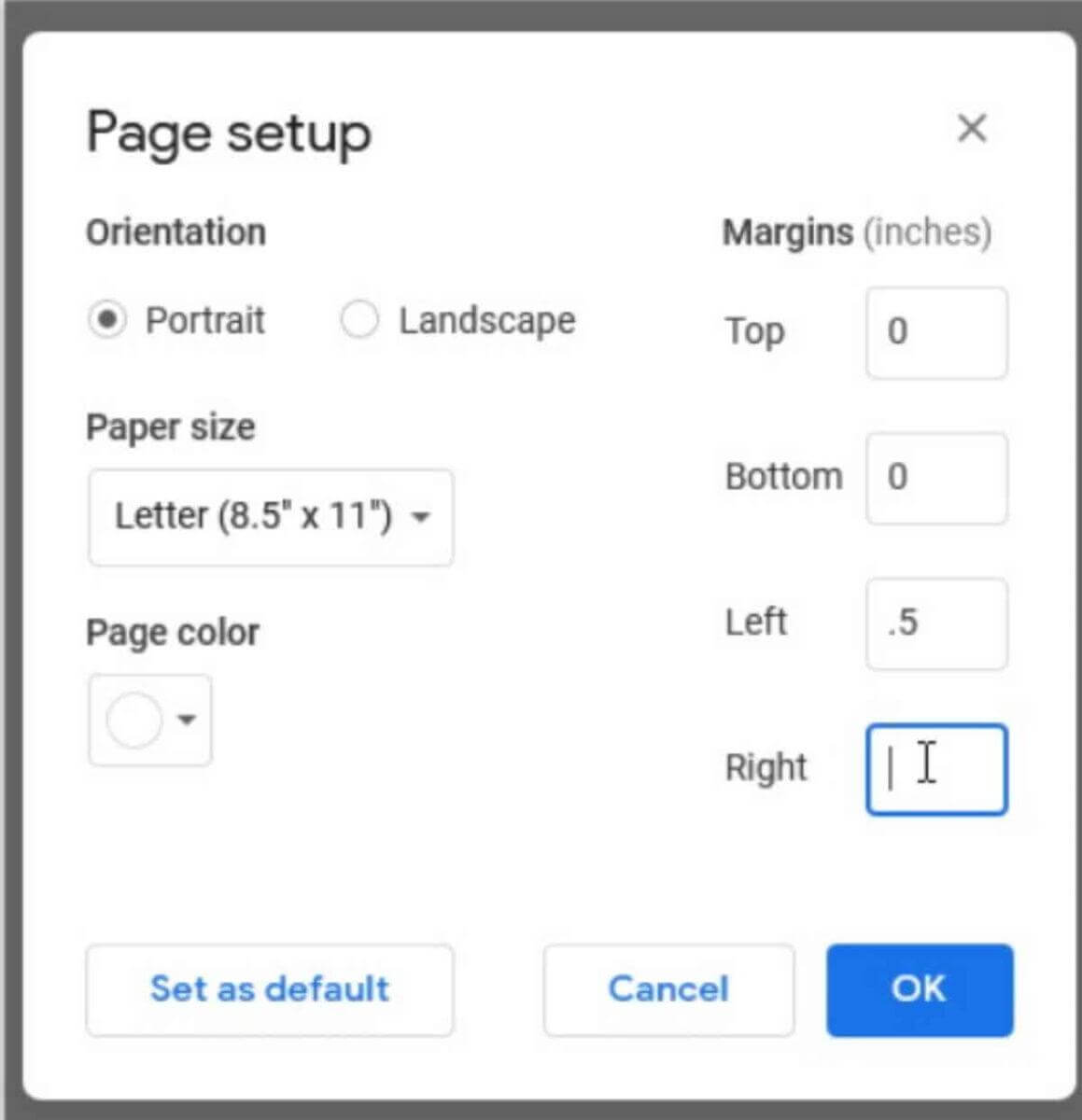 Now your page break ought to be gone. The repetition of step one should remove the blank page and bring up the print layout screen.
Adjust Section Break
Section breaks in Google Docs can also result in blank pages at the end. These can be added manually, or if you import a Word document that has them, they will be imported as well.
By default, section breaks ought to be visible; however, if this setting is disabled, you won't be able to see them in your manuscript.
Section breaks will display in your Google document if:
Make sure Show Section Breaks is ticked after selecting View. Click on it to take action if it is not.
Now, look for dotted lines indicating section breaks in your manuscript.
If there are any unnecessary section breaks, click just above the section break and choose Delete (or Fn+Backspace on a Mac).
How to adjust the Margin on Google Docs?
If you discover that the page break isn't the issue, your page margins may be set incorrectly; they are probably too wide.
Click "File" in the toolbar on the left at the top of the document.
Go all the way down to the bottom of the drop-down menu and select "Page setup."
Set all of your margins to one inch in the pop-up box (or whatever size you desire). The margin size decreases as the number decreases. If the problem was excessively wide bottom or top margins, this should cure it and give you a lot more room in your page.
If there is any mistake while setting up the format, you can reset it, as shown below.