Networking
What is CISCO Certification and What are the Differences between CCNA 200-125 vs 200-301 Exams?
CISCO Certification
The CCNA (Cisco Certified Network Associate) is the Cisco network's second-level qualification. A CCNA certification verifies that a technician is capable of installing, configuring, troubleshooting, and operating a medium-sized switch and router network.
This certification can be obtained by passing the Cisco CCNA exam or by taking and passing two additional exams: ICDN1 and ICND2. If you pass your exam(s), your CCNA certification will be valid for three years before you must recertify.
If you want to work in networking, it's customary for companies to require that you have a CCNA certification before you can be considered for a position (Cisco Certification Reviews).
CISCO 200-125 Exam
The Cisco Certified Network Associate (CCNA) Routing and Switching composite exam (200-125) used to be a 90-minute, 60-70 question evaluation connected with the Cisco Certified Network Associate (CCNA) Routing and Switching certification.
This exam assessed a candidate's knowledge and skills in the following areas: network fundamentals, local area network (LAN) switching technologies, IPv4 and IPv6 routeing technologies, wide area network (WAN) technologies, and infrastructure services, infrastructure security, and infrastructure management.
Cisco's certification programme has undergone significant changes as of Feb. 24, 2020. There would be fewer CCNA examinations and certifications available. There would be only one complete examination available. CISCO 200-125 exam has been discontinued and replaced by the most recent exam code CCNA 200-301, and so the full title is Implementing and Administering Cisco Networking Technologies. You can find out more here.
CCNA 200-301 content
CCNA 200-301 exam is designed for networking professionals to test their skills in network designing, security, quality of service, Voice over IP, and VPN. Before taking this exam you should possess the basic knowledge of networking and routing protocols to pass this CCNA exam.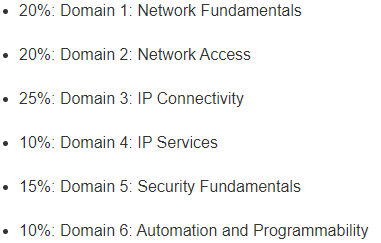 Click here to find out more about CCNA 200-301 exam.
Difference between CCNA 200-125 vs CCNA 200-301 Exams
Practically, they are not different, just the original and modified versions of the exam after the 24 February 2020 updates.