Featured
Top 5 Tips for Making Money With Your Blog in 2023
Blogging is one of the most profitable ways to generate passive income. If you want to make a fortune from blogging, I've compiled a list of the best ways to earn extra money through blogging.
My assumption is that people who come online looking for information on how to earn money blogging are truly inexperienced with the blogging cwebsommunity.
Let alone having extensive expertise in the field of web marketing. Whatever the case may be, you've come to the correct spot, as I'll disclose the five simple techniques that will assist you whether you're a novice or an intermediate blogger. Prepare to take notes and create a timetable for implementing these recommendations.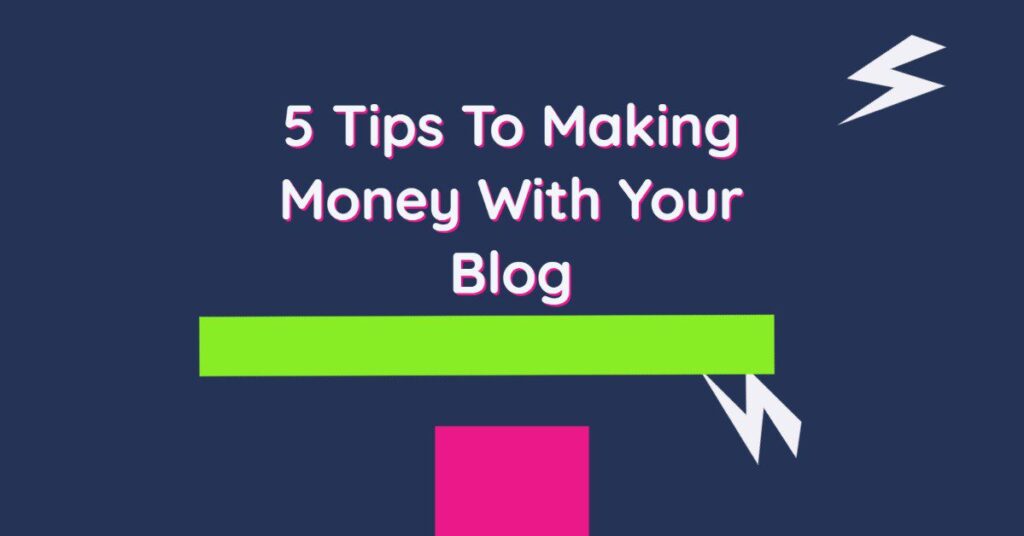 Monetizing From Google Adsense
Google Adsense is one of the most popular monetisation techniques for all blogs. Have you seen the text or vibrant banners on certain blogs? That concludes the discussion. To get started, you only need to create a free account at adsense.google.com. You can read more about Google Adsense here to know what it is and how it works.
Certain kinds of websites do better than others in terms of Google AdSense income generation. To earn money with AdSense, you need two things: excellent content and a bunch of visitors.
There are two kinds of content. Each day, there is material that draws new visitors to your site, and there is content that brings returning visitors. Ideally, you want to strike a healthy balance between the two. In this manner, you're always attracting new people and ensuring that a significant percentage of that new traffic converts to loyal visitors.
Google AdSense is not limited to those who publish text-based material or provide free online resources. If video is your thing, create your own YouTube channel and begin posting unique films.
After you've created your channel, go to the features section of your YouTube channel and enable monetization. This tutorial will walk you through the process of connecting your YouTube channel to your Google AdSense account in order to monetise your videos.
After connecting your YouTube channel to your AdSense account, you can choose which videos to monetize and which kinds of advertisements to display to your video viewers. Simply go to your Video Manager, choose the video you want to monetize, and configure the video's advertising settings.
Putting Up a Donations Button
Many blogs make money by way of donations for the efforts put in by the blogger. Usually, creative bloggers or developers use this strategy to get support for their free resources.
That is, you do not just beg for money or any pathetic pennies on your site. It is a commendable act. Your devoted readers who value your material will happily pay you "beer money" as a token of their appreciation.
The more dedicated your readers are, the more likely it is that they will donate to your cause. For those who get their traffic from sites like Digg, Google, or other referrals that send you readers who aren't devoted to your brand, this makes sense. But for those who have strong reader loyalty, it might be worthwhile to experiment with donations.
If your readers don't think you're already generating a lot of money from your site, they're more likely to respond to your request for donations. If you already have adverts and affiliate programmes in your sidebar and posts, asking for a few dollars will make you appear greedy to your visitors. The last few times I've seen a few blogs toe the line, it's been interesting to see how their readers react.
Selling Text Link Ads
In order to be able to cash in on text link ads, you will have to morph your blog into a virtual "authority" on Google and that means people will pay you a fixed amount via this company to gain some text links. It's like selling some outgoing text links.
Promoting Affiliate Programs
Perhaps this method is already known to you but let me say that you must only promote programmes in accordance with your content. Learning how to blog for money is the easiest with this method as you will also learn how to market. Promoting website themes, plugins and hosting providers can be a great idea. You can also make money from the Fiverr affiliate program.
You can also try selling a product from Amazon, eBay or other such platforms. You can create an Amazon affiliate program that you can market on your blog and monetize your blog with your affiliate link.
Selling Your Own eBooks Or Reports.
While most bloggers actually give out free content on their blogs you can use some of your posts that always revolve around your product. This is useful if you are planning to create a simple 25-page report to sell at say, $ 10 per digital copy.
At the very least, anyone can gain enough knowledge on how to blog for money in less than a weekend. However, you will begin to increase your income if you also learn how to market products online by investing in some genuine blogging guides.
Conclusion
Blogging has opened up the Internet for entrepreneurs to share their talents online and make money from doing it. The fact that blogging is open to anyone around the globe makes it an inexpensive way to start up a business online.
You can also use the knowledge of blogging to build your skills. If you are not comfortable writing, you can hire writers to do the job for you. You can also hire technical writers to write your articles or hire video producers to make your videos. And by applying the above methods, you can make money from your blog.