Are you looking to make group calls on WhatsApp? Read below how to make one, on Android, IOS, Laptop, or PC 2022, with All updates and Step by Step details.
WhatsApp is well-known for allowing individuals to communicate with their loved ones. However, the instant messaging software isn't only for text messages; it also allows you to communicate with a group of people through audio or video.
This is handy if you need to chat with numerous people simultaneously, whether to discuss anything essential or simply to check in on them. WhatsApp group calling is accessible on all platforms. You can make group calls regardless of whether you have an Android or an iPhone.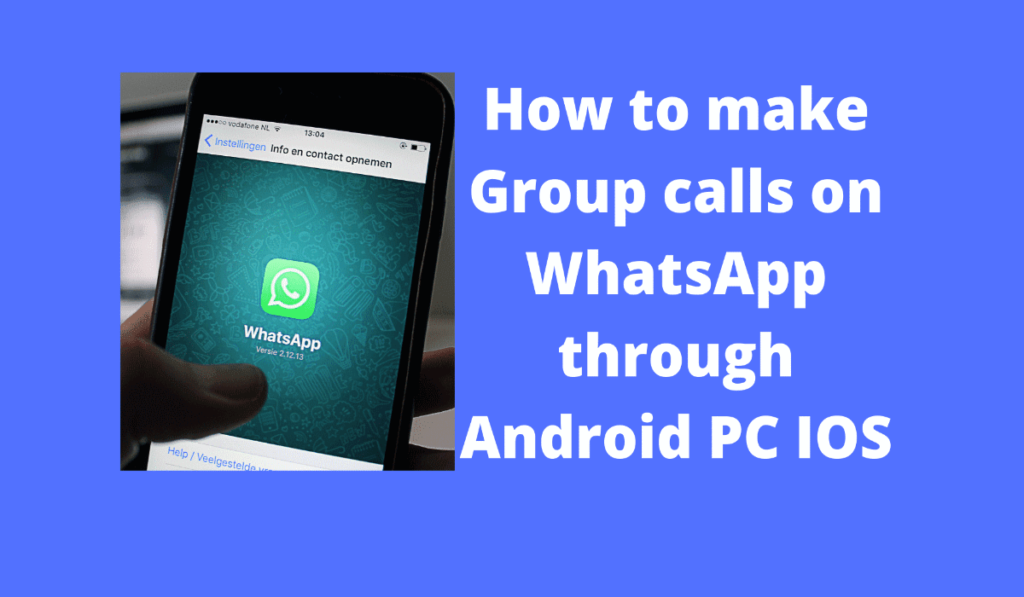 Additionally, the chat app offers cross-platform group calls, allowing you to communicate with your pals regardless of their platform of choice.
A group calling on WhatsApp was first introduced in July 2018, and it's an essential and helpful feature for a lot of individuals who don't want to learn how to use other group calling applications like Zoom or Google Duo. The convenience that the Facebook-owned corporation provides with its group calling function is what has drawn in a large number of consumers. You may add a new participant to a current group call or initiate a call with multiple users from any of your group conversations.
This article will walk you through the processes for both Android and iPhone. We've included separate sections to help you learn how to use WhatsApp to make a group audio and video conversation with your contacts. So, let's get this party started (make group calls on WhatsApp).
All of this demonstrates how group calling is an essential feature of WhatsApp. But how can you make a group call?
How to make group calls on WhatsApp? For Android
Here's our step-by-step guide on how to make a group call with WhatsApp. This guide provides you with steps for Android and iPhone.
Before we get started, it's vital to remember that WhatsApp allows up to four people to participate in a group call at the same time. This implies that on any platform, you won't be able to initiate a group call with more than three of your contacts on WhatsApp.
On your phone, open WhatsApp.
From the bar that includes tabs for Chats and Status, select the Calls tab.
Now, press the call button from the bottom-right corner of the screen.
You'll be given a list of people with whom you may make a WhatsApp call.
To make a new group call, press the New group call button.
The app will now allow you to choose from a list of contacts with whom you wish to have a group call. For a group call, keep in mind that you may only invite three people.
On the top of the list, you'll see circles of the contacts you've chosen for your group.
By tapping the phone and video camera buttons, you may then pick between a video and voice call.
How to make group calls on WhatsApp? For IOS
On your iPhone, open WhatsApp.
From the bottom bar, choose the Calls area from the Status, Calls, Camera, and Chats sections.
Now, from the top-right corner of the screen, press the call button.
On your screen, a list of all of your WhatsApp connections will appear.
You must now hit the New Group Call button, which is located directly above your WhatsApp contacts list.
The app will now show you a list of attendees from whom you may choose for your group call. For a group call, you can only add up to three of your contacts, the same as on Android.
You may, of course, add any more members to your group call by hitting the contacts symbol in the top-right corner of the screen until the list reaches four.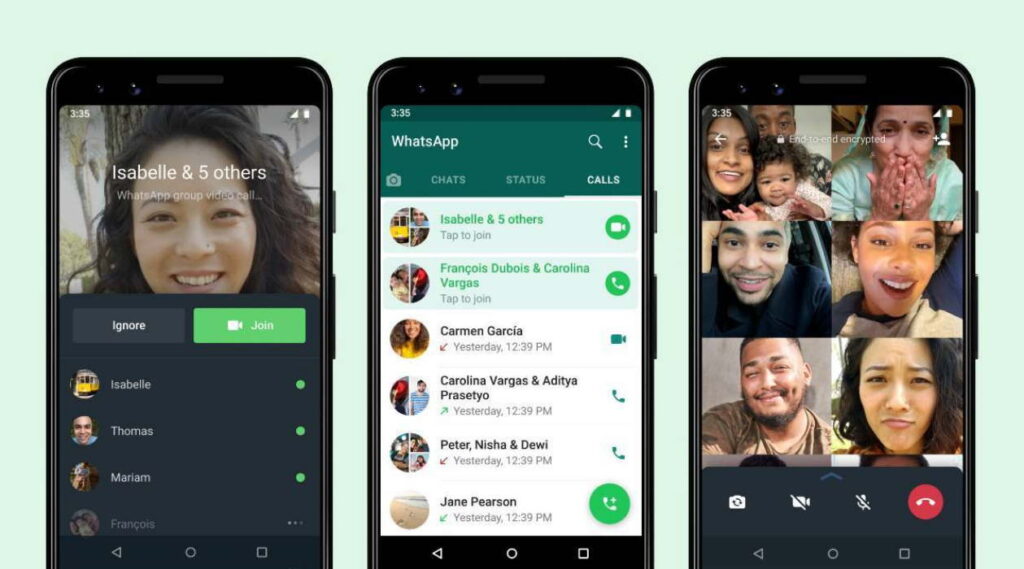 On both Android and iPhone, WhatsApp allows you to make a group call right from a group. Both Android and iPhone users may accomplish this by following the same methods. The contacts you want to connect with via a group call, however, must be on your contact list.
How to make Video Call within WhatsApp Group?
On your phone, open WhatsApp.
Choose a group from which you'd want to make a conference call.
Now, from the top-right corner of the screen, hit the call button.
A pop-up screen will appear at the bottom of the screen, allowing you to pick the contacts you want to chat with on the group call. You can choose up to three people at once.
After that, you may choose to make a group video call or a group audio call by pressing either the video camera button or the phone button.
WhatsApp just released an upgrade for groups with four or fewer members.
How to join a Missed Video Call in WhatsApp Group?
Activate WhatsApp and go to the CALLS tab.
You may join a call that was launched from a group conversation by accessing that chat and pressing Join.
If the call is already in progress, touch the call you want to join. This will take you to the call information screen.
Tap Join from the call menu.
When making or receiving group phone calls, be sure you and your contacts have a robust internet connection. The voice call's quality will be determined by the contact with the weakest connection.
You won't be able to switch to a video call while on a group voice conversation.
During a group voice call, you can't delete a contact. To disengage from the call, the contact would need to hang up their phone.
While you can be on a group voice call with someone you've blocked, you can't add a blocked contact or a contact who has blocked you to the call. If you don't want to be connected with the blocked contact, you can ignore the call.
In the United States, emergency service lines such as 911 are not accessible via WhatsApp. Alternative communication arrangements must be made in order to make emergency calls.
How to join an incoming WhatsApp Group Call?
When someone invites you to join a group voice call, you'll get a notice.
If you are unable to connect, choose Ignore. Tap Join to bring up the call information screen.
You may preview the call participants and additional invitees from the call details screen.
To join the call, tap Join.
Tap Open to bring up the call details screen while on the phone.
To add more people to the call, tap Add participant.
To send a notification to persons who have previously been invited, tap RING.
How to make a WhatsApp call on PC Laptop or Tablet?
Video calls cannot be made using the WhatsApp desktop app. To send and receive text messages, you must use the desktop program.
Windows users, on the other hand, may get past this restriction by installing an Android emulator such as AndY, Nox, or BlueStacks. These are also available for Mac users to download. You may use Android emulators to download the mobile version of WhatsApp to your computer and use it to make video calls.
One trick to try on PC or Laptop is to open in Inspect Mode on Browser and try refreshing as PC mode.