If you get the error message "The application was unable to start correctly," Fix Error 0xc00007b, it means that something is probably not quite right when you try to run a game or software. Let us understand the error message and look for a fix.
The majority of the techniques listed below are easy and may be used to attempt to resolve the 0xc000007b problem. In certain circumstances, you may only require one, but you may also need a combination of them.
The phrase "The programme was unable to start correctly" might appear in an error message along with an error code (0xc000007b).
When opening an application on Windows, you see this error notice. This typically occurs when you update a previous Windows version and some files or applications stop working properly.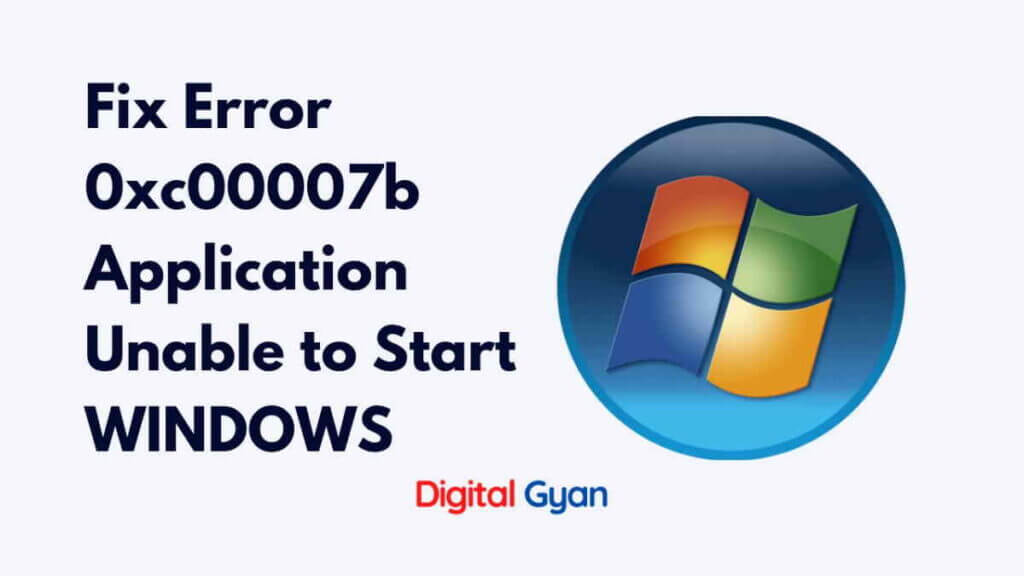 How to Fix Error 0xc00007b on Windows
You can test the techniques listed below to see if they can assist you in fixing this problem:
Reboot your computer
When you get an error message that reads "The programme was unable to start correctly," there could be a little issue with your system. Your computer can be rebooted to resolve the 0xc000007b issue:
Run your programme in administrator mode.
Try running your programme as administrator and see if it helps when you see a 0xc000007b problem.
To open an application, simply right-click on it. Select Properties next.
Click the Tab for Compatibility. Check Run this application in administrative mode. Next, click OK.
Run your programme to determine whether this approach resolves the issue.
Change Compatibility Mode
Try running your programme as administrator and see if it helps when you see a 0xc000007b problem.
To open an application, simply right-click on it. Select Properties next.
Click the Tab for Compatibility. Check Run this application in administrative mode. Next, click OK.
Run your programme to determine whether this approach resolves the issue.
Install the Microsoft.NET Framework again
In truth, problems with the Microsoft.NET framework frequently cause the "The programme was unable to start correctly" error.
(The Microsoft.NET Framework is a framework that enables applications built with.Net technologies.) To resolve the problem, you might have to reinstall it.
Windows 8 and 10 both use the Microsoft.NET framework as a foundation. It cannot be manually uninstalled or reinstalled.
As a result, the instructions listed below could only work with Windows 7 or older versions. You might try upgrading Windows to install the most recent.NET framework if you have Windows 10 or 8 (if any).
Simply press Win + R. Click OK after typing "control."
Scroll down in Control Panel to discover and launch Programs and Features.
Every item has a single click that begins with "Microsoft.NET." To uninstall these components, click Uninstall/Change and then adhere to the instructions.
Visit the Microsoft.NET Framework download page to get the framework and install it.
Windows must be updated
Your operating system's problems can be fixed by updating it. Additionally, several built-in Windows features and applications, including DirectX and the.NET Framework, can also be upgraded throughout the process. It is advised that you upgrade your operating system and check to see whether the 0xc000007b error is resolved.
Run check disc
Hardware problems, particularly those with your hard drive, may potentially be the blame for the error. You should use Command Prompt to run the check disc and inspect your disc for any issues.
In the Start menu, type "cmd." In the resulting menu, choose Run as administrator and then right-click Command Prompt.
Type "chkdsk c: /f /r." (This denotes that you will inspect and maintain C drive. (Instead of "c," use the drive's matching letter if you wish to examine another drive.) To finish the procedure, adhere to the instructions.
Check to see whether the issue has been resolved after that.
Upgrade to ChromeOS
Windows is a dated piece of software. Windows 10 may be relatively new, but it's still just the most recent version of an operating system that was created for a bygone age and has been around for a long time (pre-internet).
The entire Windows manner of doing things – with locally installed applications and local file storage – is completely out of date now that we have the internet, high connection speeds, free cloud storage, and infinite online apps (including Gmail, Google Docs, Slack, Facebook, Dropbox, and Spotify).
Why is it an issue? You continuously leave the door open to viruses and malware when installing unauthorised third-party apps. (And this issue is made worse by Windows' insecure permission scheme.)
Additionally, there have always been issues with how Windows maintains installed applications and hardware. You may have "registry" corruptions if your computer abruptly shuts down or if an application is installed, uninstalled, or updated improperly. Windows computers constantly experience slowdown and instability over time because of this.
Additionally, since everything is installed locally and saved, it doesn't take long until you run out of disc space and your disc becomes fragmented, which causes everything to perform slower and more unstable.
Update .NET Framework
This error message can also occasionally be brought on by the .NET Framework. Therefore, installing the most recent version of the.NET Framework could fix the problem.
Go to Control Panel > Programs and Features and select Turn Windows features on or off to install the.NET Framework. A list of Windows features will appear in a new window that will open.
Press OK after selecting the.NET Framework 3.5. Your computer will restart with the error resolved when the download and installation are complete.
Repair Corrupt System Files
Try upgrading Windows after downloading and running Restoro to scan and restore damaged and missing repositories. Run the software as an administrator if it doesn't function.
Run The Program As Administrator
This error may occasionally appear if the application you are attempting to run does not have administrator rights. Right-click the application and choose Run as administrator from the list to accomplish this. The programme will function properly when you click Yes in the new window that appears.
Reinstall your application
In certain cases, the 0xc000007b problem might be resolved by reinstalling the offending application. The antivirus application should be disabled during reinstallation, and you should choose the other software options offered since they can be useful. Search bars and other irrelevant offers can be ignored.
Update DLL Files
Although the updating DLL approach to remedy this error is a little challenging, it can undoubtedly fix the problem brought on by the 0xc000007b error.
This approach entails changing the xinput1 3.dll file located on the C disc. This error can be caused by a faulty copy of the file or by overwriting it with a different version. Follow these guidelines to resolve the problem.
DLLME offers dll xinput1 3.dll for download
Utilize the Winrar compression programme to extract these files.
From the extracted folder, copy the xinput3.dll file, and then paste it into C:\Windows\SysWOW64. All you need to do is select Copy and Replace when asked to replace.
Update DirectX
The last recourse if none of the ways above work is to update or reinstall DirectX; otherwise, Windows must be reinstalled. Visit Microsoft DirectX to update or reinstall DirectX. – Run the setup file after downloading it, then follow the on-screen instructions to reinstall it. Once finished, restart your computer and run a test.