Top 10 sites to find animated stock icons and images
As the say goes, "A picture worth a thousand words", then a simple long plain text. We all are readers, and to make reading interesting it becomes necessary to add some images, animations and icons.
But when it comes to designing a presentation or website, it becomes too difficult to find a perfect one, that will suit the mood of the reader. Also, it can be quite frustrating when you have to design a new icon or image every time. Today at DigitalGyan, we will be talking about the Top 10 sites, where you can find the best-animated stock icons and images.
If you are new to designing or don't have much experienced before in this field, do give it a try. It will be very useful in future while using icons and images. This Top 10 list is based on the reviews that users have given previously.
Icon8 is one of the best and my favourite place for any icons or photos. This website consists of vast great designed icons and many photos. It is very user friendly and you can use it for free. There is no copyright or attribution required on many of them. Hence, it's one of the best places for daily use.
The Icon8 consist of excellent icons and images that just suits your topic. You can even edit icons or pictures, this is something that is not present on another website. This gives you real-time vector editing, unlike the complex and heavy software that runs on a computer and consume space.
This website is extremely fast and downloading is very smooth. It also provides you with adding Overlays, Recolor and even custom effects and animation to your image. Click here to visit this website.
Over the past few years, the users have really liked this website. The important thing is that all the good icons are free for anyone to use. You can also become an author at Faticon and earn money for premium royalties. But it requires, linking back to the original author. If you don't want this, then you can purchase a premium license at a discounted price.
Another immense thing about Flaticon is the special visualizing icons which are truly good in animation and visual appearance. You can use this accordingly for any purpose. Various formats are available to use like BASE64, EPS, SVG, PNG and PSD.
If you are looking for some free attractive and elegant icons then go for Iconfinder. On this website, you can download thousands of free icons with any copyright issues. This website runs on a CC 3.0 license. You can also use this icon for commercial purposes without the need for paying. Some may require attribution.
If you want a premium icon, then you can go with just $9 a month and can access the best content ever.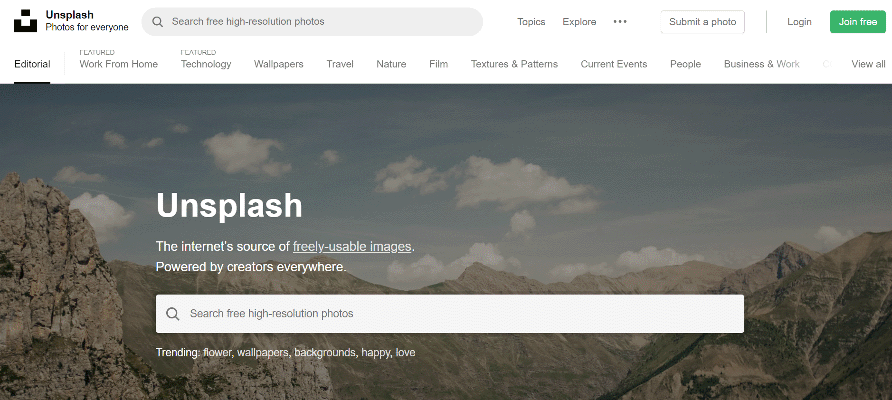 Unsplash is the best place to find some unique and beautiful images for your design. With over 180,000 photographers, there is no doubt that you can't go without demanding the best picture from this.
Unsplash uses 3rd party apps and websites for API connecting services, hence easy to use features are available. It also consists of a wide variety of textures and patterns.
5) Canva
If you want customization in your to image, or looking for some niche or idea with some photo. Then Canva is the best place for images. You can also design your icons on this website free of cost. And also millions of premium pictures for free, with some attribution only.
Canva is very user-friendly and easy to navigate for the best images.
5) Pexels
Pexels is the most used website by people, for free stock images. It consists of a wide variety of images. Not only images and customization, but you can also get free stock videos.  
7) Pixabay
Pixabay is the second-best place after Pexels, where the user has the most rated. It is in the top list of free stock images, but the quality compared with the others are not as great. You can find suitable images, which is also suitable for plugins and apps.
After it's release in 2012, the number of users till now have exceeded more than tens of millions of user. The icons are even used to React and Angular projects, hence, big corporations even use this icon.
You can find your favourite icon on this website, and also you can customize design, dimension and format for free. With the API handing feature in it, you can also grab it directly to your website without downloading it.
With good-quality images and decent search functionality, StockSnap is one of the best websites. You can also find some unique images on this website with an elegant look. You can check for the size and dimension of images before downloading. It also consists of High-Resolution images.
If you are looking for some best picture, with some premium theme and design, then Shutterstock is the best place. You can get the best picture at even $0.25 of an image.  Shutterstock is a place with more than 300 million High-Quality images. It also consists of some cheap subscription packages that you can buy. You can also find some regular promotions for free images.
Additional Website
No doubt Google has the best and awesome designed icons, with more than 900+ icons with a wide variety of customization in each category. There is no copyright issue and no attribution is required, so you can use it freely. It's API is very easy to integrate into the application or browser