Pros and Cons of cPanel Web Hosting
Cpanel Web Hosting – If you are looking for a web hosting service with a cPanel, you have come to the right place. cPanel is a web-based hosting control panel that allows you to control and administer your web hosting from a single web page.
A cPanel account can host a wide range of sites and services, and cPanel provides powerful tools for webmasters to work with. cPanel is undoubtedly the most popular server administration interface in the web hosting market today when it comes to server management interfaces.
Many web hosting businesses also offer cPanel hosting as their primary control panel, which is becoming increasingly popular.
Why Cpanel is so good?
You will not find a more user-friendly piece of software than cPanel whether you want to set up a blog, an e-commerce website, or any other type of web presence. cPanel is a web-based control panel that makes it simple for consumers to administer and build sophisticated websites. If you are a newcomer to the world of web hosting, you may not be aware of the numerous advantages of using this type of web host. I would be delighted to describe the advantages and disadvantages of this hosting service in this section.
It is a sophisticated and simple-to-use tool that enables you to manage your website and your domain from a single location and interface. Any task, including creating, maintaining, and upgrading your website, is becoming increasingly simple. No matter if you are a newbie in website creation or an experienced webmaster, you will benefit from the advantages that come with it in equal measure.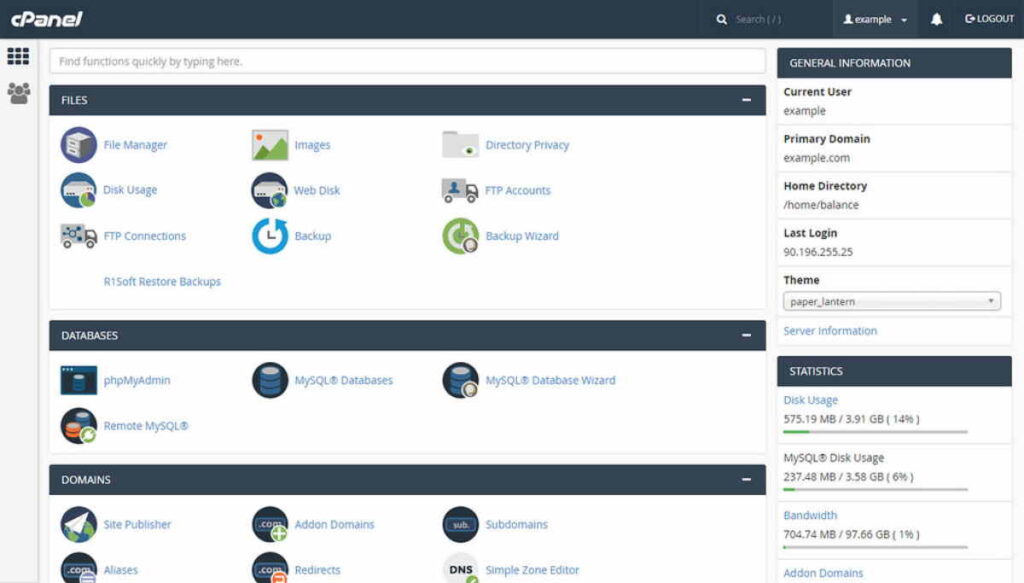 Your website can be built and managed through it. This includes managing your emails as well as web directories and error pages. You can also store data in databases, create backups, utilise FTP capability, and even set up a shopping cart. With cPanel, you can simply monitor how much disc space you have left, as well as configure your spam filters and other features. It is pretty simple to use, but there are a plethora of tutorials accessible on the internet to assist you if you get lost.
It has been on the market for such a long period that it has shown to be secure and stable. Because it has been under development for so many years, it has amassed a significant user base. cPanel web hosting is popular among consumers because of the high quality and dependability that cPanel web hosting provides. If you choose cPanel, you will be able to build a strong foundation for your website.
Cpanel Web Hosting – It is well known for its support for various third-party applications. This allows the web hosting provider to offer packages bundled with a wide variety of pre-installed, ready-to-be-use programs. With this pre-configuration, you are allowed to use this software with a few clicks of the mouse.
Spam Assassin is available on many cPanel hosting sites. Spam Assassin is a mail filtering system that scans every email received under the email accounts hosted from your cPanel account for typical characteristics of spam messages. This function also increases your website security.
Easy To Use
One of the biggest pros of cPanel is the ease of use. No one ever claims to be the smartest when it comes to web hosting, but they often claim to be the easiest to use. cPanel makes web hosting a lot easier by adding a lot of its own tools to make it a breeze to manage your website.
With a single click, you can access your web hosting control panel and manage all of your services. You don't have to go to any unfamiliar locations. All of the functions and tools that you need are at your fingertips. With the cPanel hosting service, there is no hidden functionality or anything that requires you to have any programming or technical know-how.
Easily Configured
Another big benefit of cPanel is that it's really easy to configure. It's very straightforward. The great thing is that you don't have to be a tech wizard. You don't need to have any technical training. You don't have to be a cPanel pro. In fact, many web hosting packages that you buy today can come with a cPanel pre-configured.
So, if you want to move your existing website onto a different web hosting service, you can easily migrate the entire website with little to no technical knowledge. There's no way that you're going to have any issues with the migration. With cPanel, you don't have to bother installing the different hosting services that you need. The website will just be at your disposal when you need it.
Affordable
Lastly, cPanel offers one of the most affordable packages available. If you're looking for a fast, user-friendly and cheap web hosting service, then cPanel should be your first choice. It's really easy to use. It doesn't require any technical know-how or skills. It's very affordable. There is a free web hosting service available. You can manage your website online or by using the cPanel dashboard. There are many different features that you can enjoy. The fact that you don't have to be a tech wizard makes it even more affordable.
Limitations of CPanel
The downside of cPanel is that you can't host video and mp3 streaming. It's a web-based application. There are certain security issues that you have to worry about. It's easy to create backups. The cPanel interface isn't exactly user-friendly. It doesn't provide full-featured database management. This means that you can only manage one database.
Conclusion
It is not just one feature, but a whole range of tools that are available to you when you use cPanel. It is one of the best features of web hosting in general and, in this respect, it stands head and shoulders above all the competition.
cPanel is the feature of web hosting that everyone should consider and include in their website. It does not matter what kind of business you are running, cPanel can be a great tool to help you run your website. You will be amazed at how much you can achieve in a few minutes, and how easy it is to manage your web hosting account with cPanel.