Save Instagram Pictures
Do you want to save Instagram pictures on your mobile or tablet? Are you looking for a way to save images on Android or iOS? Then you have arrived at the correct place. Today we will go through all steps to save pictures on your device.
If you've ever stumbled across a popular videography sharing platform and attempted to save it, you'll know that the program doesn't allow you to do so.
There are now options for people to save images that they have submitted, but it is a bit of a problem if you want to save photos that other users have posted.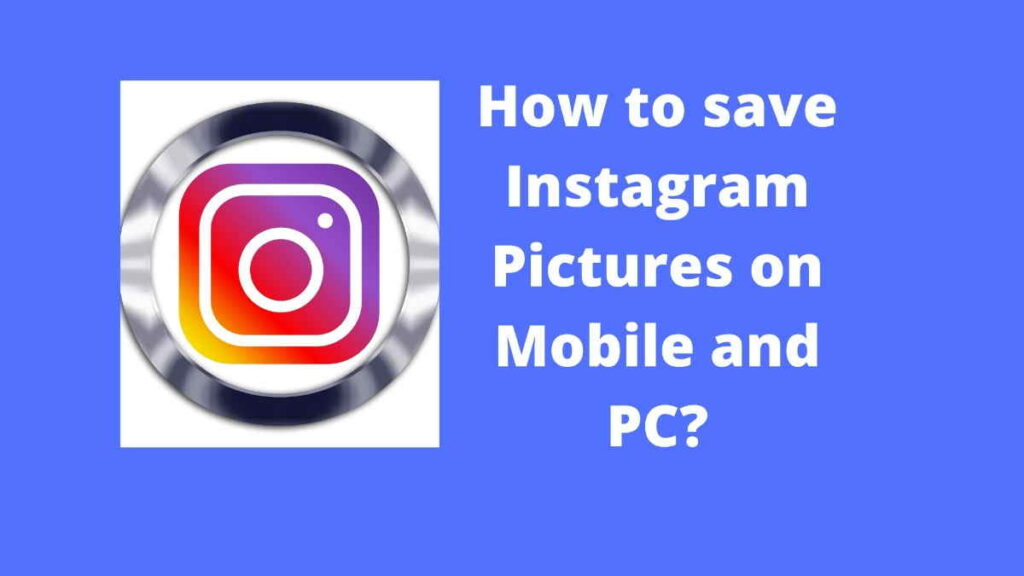 Fortunately, there are workarounds that allow you to preserve Instagram photographs. Are you curious as to how? Follow our easy-to-follow instructions.
Why Instagram makes it difficult to save Instagram Pictures?
Instead of being able to connect to the image directly, Instagram wants you to link back to their website. Instagram, on the other hand, does not own these photographs; they belong to you or whoever took them.
However, attention-hungry social media networks make it tough to just download your photograph. They use JavaScript to modify the functionality of your browser.
Anyway, these photos are now available for download. It takes some practice, but once you get the hang of it, you won't need to utilize a screenshot tool or go straight to Instagram to acquire these photographs.
There are programs available to mass download your Instagram photographs. However, this is the quickest method if you only want to save a single photo. There are no tools or Chrome extensions that you need to install.
Easy Trick – save Instagram Pictures
Log in to Instagram using your Google Chrome browser.
Scroll down until you find the image you wish to save.
Select the choice by tapping on three horizontal dots. Proceed to the next step.
Select View Page Source from the context menu by right-clicking.
Find the first link that ends in.jpg and copy it.
To open a new page, paste the URL into it.
To save an image, right-click on it and select "Save Image As."
Taking Screenshot – save Instagram Pictures
Taking a screenshot is the simplest way to download photographs from Instagram. It isn't ideal, and the resolution won't be excellent, but it is the quickest way to do so. Check out our specialized screenshot tutorials for Android and Windows, which you can find below.
Using Free App to save Instagram Pictures in Bulk
Another method of downloading Instagram photographs needs a little assistance from the Play Store. Don't worry, the app is completely free. After that, the copy and paste procedure is nearly the same as that of DownloadGram. FastSave's sole drawback is that it is only accessible for Android, thus non-Android users are out of luck.
FastSave is available for free on the Google Play Store.
Open the Instagram app and look for the photo you want to save.
Select Copy Link from the three-dot symbol in the top-right area of the picture.
To find the image, use the FastSave app and paste the URL into the search box.
In the bottom-right corner, click the download option.
Check the boxes next to the photos you wish to download.
Choose "Fast Download."
You've completed the task!
How to save My Instagram Pictures at Once?
You may use Instagram's easy application on your computer or phone to download everything you've shared on Instagram at once. To use it, go to Instagram on your desktop computer, or open the Instagram app on your phone.
Tap the Profile symbol in the bottom-right corner of your mobile device, then the three-line Menu inside the upper-right corner. Tap Settings from the menu that displays. Finally, go to the settings menu and select Security > Download Data.
On a desktop, click your profile image in the top corner to bring up a menu, then select Settings. Choose Privacy and Security on the left side of the subsequent page. Then, read down to the Data Download heading and press the Request Download button.
You can acquire a copy of anything you've shared on Instagram using either technique.
This includes "all of your photographs, comments, profile information, and more," according to Instagram. This might take up to 48 hours, but in most circumstances, it should just take a few minutes to an hour.
To continue, click Next if your email address is already in the box. On the PC, you have the option of using HTML or JSON as the format. After that, you'll need to enter your password, and Instagram will begin collecting data.
You'll receive an email with a link to anything you've ever shared on Instagram in the near future. It's only good for a few days, so get your data before it's too late.
How to save Instagram Pictures on Iphone?
On iPhone, Android, or the web, Instagram does not give an official mechanism to download your own images. You may be tempted to download an app that claims to be able to accomplish this for you, but you should avoid most of them. Never give out your Instagram login to a third-party app, since this might result in your account being hacked.
Some downloading programs, on the other hand, are secure to use since they do not require your credentials. One of them is iGram, which can be used on both mobile and desktop. There are some advertisements, but they aren't too bothersome.
To utilize it, go to Instagram and choose the photo you wish to save. Tap the three-dot button in the top-right corner of the post and select Copy Link, whether it's one of yours or someone else's. Then, on Safari or another browser, launch iGram.
To add the link to your photo, tap on the URL box and select Paste. Then hit the Download button. After a few moments, the picture was downloaded successfully.
How to save Instagram Pictures on PC or Laptop?
Open Instagram in Inspect Mode or Press F12 or open through Developer Mode.
You should now be able to save your own Instagram images to your phone, as well as Instagram material from your friends and other accounts you follow, thanks to this quick instruction.
You now have the information to save a recipe for later, save an inspirational quotation or useful action guide to keeping on your phone for when you need it, create Pinterest-style mood boards for a project, or simply save a gorgeous photo.
Using quote marks, copy only the URL content that occurs between the two speeches. Copy the URL and paste it into a new browser tab. You can now download this picture on New Tab.
How to Bookmark Instagram Picture without Saving?
While it isn't the same as downloading, you may save a post by clicking the Bookmark button on it. By selecting Saved from the three-line menu on your profile page, you may access all of your saved bookmarks.
Bookmarking a photo on Instagram allows you to return to it without having to copy or save the URL. Your saved Instagram posts are only accessible to you; no one else can view them.
Keep in mind that bookmarks are just links to current Instagram posts. The bookmark will no longer operate if the owner removes a photo you've saved.
Sadly, there is no method to download all your Instagram-stored photographs at once.
There is third-party software available for this, but you should be cautious about trusting these programs because they might jeopardize your Instagram account, as previously stated.
On this tab, you may create and manage additional Collections in addition to the default Saved list. These are useful for gathering postings on a certain topic, such as wedding inspiration.