SEO Marketing Strategy 2022
Are you hoping to improve your search engine rankings in 2022, including Google and Bing? If you want to stay at the top of Google's results page, you'll have to step up your SEO game.
Choosing the appropriate SEO approach to get your business in front of the correct audience entails a lot.
It's critical to have a solid, results-driven SEO plan in place that will help you get an advantage over your competitors and flourish on superior outcomes. It's critical to keep an eye on market trends whether you need more business leads, traffic, or to better your entire business branding.
As you intend to advertise your brand to a new market sector in 2022, consider how you may strengthen your current SEO marketing approach. Here are 5 Best Ways for effective SEO Marketing Strategy 2022 trends that you should be aware of today and in the future.
What is SEO Marketing?
When it comes to enhancing your organic position in search engines like Google, Yahoo, and Bing, an SEO plan is the road map and precise actions to follow. To put it another way, it's the method you use to increase organic traffic rather than pay for it through advertisements or social media shoutouts. Please keep in mind that getting results from SEO can take some time, so having patience is critical when making an SEO strategy.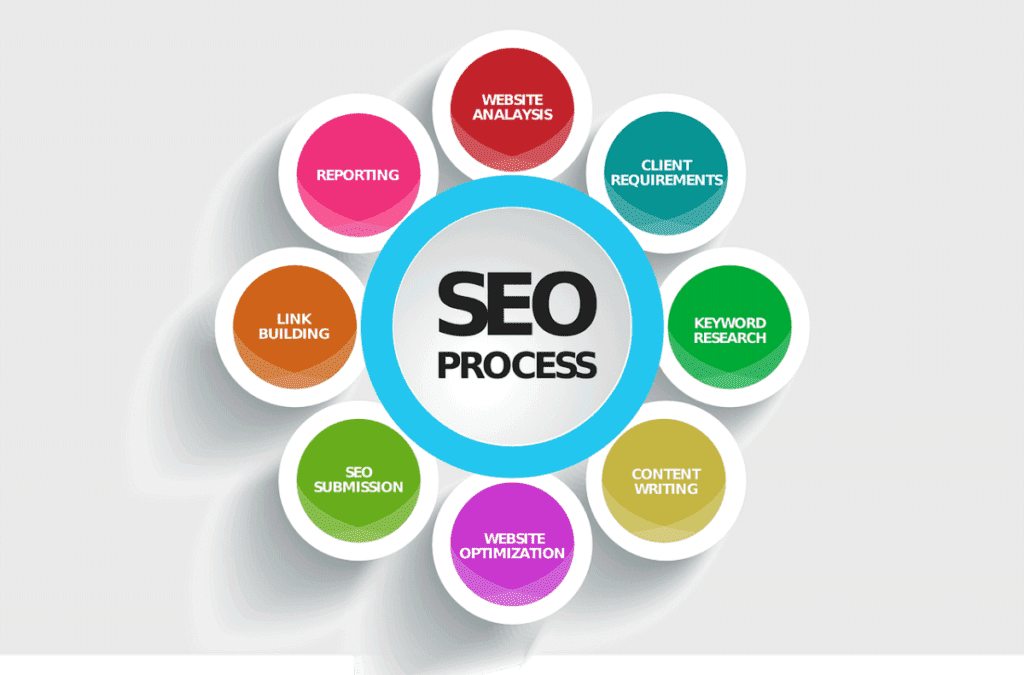 A thorough plan to increase a website's search engine rankings to garner more organic visitors is known as an SEO strategy. Technical SEO, content planning, on-page SEO, link development, and user experience should all be incorporated into this approach.
5 Best SEO Marketing Strategy 2022
To build an effective 2022 SEO strategy from the ground up, follow these steps:
1 – Find Relevant Keywords
One of the most effective methods to begin your keyword research is to go to Google and type in your term. As you write, you'll see a dropdown menu of relevant terms emerge.
This is Google Suggest, and it's a great method to uncover terms that have a high demand that Google knows about. Concentrate on three to four lengthy keywords with low competition and high traffic. By focusing on these kinds of keywords more and more. The Domain Analysis (DA) of your website will improve, allowing you to target short keywords. (SEO Marketing Strategy 2022)
For mountains of keyword-related data, use strong, comprehensive SEO tools like Ahrefs, Moz, and SEMRush. Utilise keyword research tools such as KWFinder, KeywordTool.io, and Soovle.
Check Google Search Console to determine which keywords are already driving organic traffic and where you can improve. Examine Google's first and second pages to check your search purpose. Look at Google Search Tendencies to see if there are any emerging trends or seasonality.
2 – Check for the Competitors on that Keyword and Top Page
Perform a manual keyword competitive analysis. What kind of sites is ranking for your term, and more importantly, what types of content are they producing? Is it listicles, image galleries, blog entries, or something else in the top three results?
It's advisable to try to replicate the type of material that appears at the top of the search results while improving on it. Because it supports Google's search purpose, search intent is one of the most important components of keyword research. To put it another way, Google wants to give the most relevant material to consumers as rapidly as possible.
A keyword could have a lot of searches. It might, however, be caused by user intent that is out of sync with your content, company, goods, or services. Ranking would be nearly hard in that circumstances, and any traffic would almost certainly bounce without converting.
3 – Write an Effective and Appealing Content (Content is KING)
You now know what keyword(s) you want to rank for and what kind of content you want to create. Let's assume you're trying to rank for "how to prepare an espresso," and the top results all provide a step-by-step guide.
To compete, you should also build a list using the phrase "how to prepare an espresso" and related keywords like "espresso foaming" and "types of espresso beans" — in other words, add extra material to your page that the searcher would find useful.
SEO Marketing Strategy 2022 – Even if they weren't searching for your principal keyword, having additional related keywords increases your chances of being found. Aim your emphasis where Google already knows your brand as important and authoritative, and you'll notice incremental results sooner and simpler thanks to the halo effect.
As a result, you can continue to create a specific ecosystem to gain supremacy in that Long-tail keyword before moving on to a more difficult short tail (1-2 Keywords).
4-Optimization of content both on-page and off-page
It's a good idea to use your main keyword around once per 100 words or so. As a result, you should utilise it roughly 10 times in a 1,000-word blog article.
Furthermore, On-page SEO include your major keyword in critical areas like the Title Tag, H1 tag, and other headers, as well as the first and final 100 words of your content. Also, be sure to include photographs, pictures, or diagrams that are keyword-based.
Any efforts you perform outside of your website to boost your SEO are referred to as OFF-page SEO (also known as "off-site SEO"). Link building, getting published on third-party websites, and being interviewed are all common examples.
On-page SEO isn't enough for Google because it considers what others think about your brand. You must show search engines that people see your brand as authoritative. You should do deliberate outreach to high-quality websites to fully enhance your organic search results. Make sure, though, that the websites you're referring to are likewise relevant to your business.
Finally, broaden the scope of your backlink profile. Getting 100 backlinks from the same website isn't as beneficial as getting 100 backlinks from 100 different, high-quality domains. As a result, you should consider scaling up your link acquisition strategy.
5 – Focus on providing overall some knowledge or information.
The entire goal of any business is to alleviate your clients' pain points. Outperforming competition gets simpler whether you're in an offline or online firm if you can answer clients' concerns with quality and quickness. It will allow you to stay ahead of the competition without having to spend a lot of money on advertising and marketing. Solve your customers' problems and use SEO to get the word out to as many people as possible. (SEO Marketing Strategy 2022)
Your business will never run out of leads or traffic after you've done it. Keep an eye on market trends and how clients' purchasing behaviours are evolving. The key to a successful SEO strategy in 2022 is to build it on providing answers to your client's problems.
Final Thoughts on SEO Marketing Strategy 2022
Start using strong SEO strategies today and in 2022 to increase traffic, traction, and business leads for your company. If you're not getting the most out of SEO, now is the time to employ a professional firm and start improving your brand's worth.
In 2022, the focus of SEO will be on enhanced user experience and accurate data. If you concentrate on strengthening these aspects, your company will become unstoppable. While developing a new plan for your company, keep these SEO tips 2022 in mind.
Choosing the ideal SEO Marketing Strategy 2022 for your website to rank at the top of organic, local, and worldwide searches should be simple. To begin, you should concentrate more on your competition and figure out how to outperform them. Examine their blog approach, social media presence, organic search ranking, user experience, online reviews, and a variety of other factors.