There are a lot of tablets available in the market these days, and it can be quite confusing to choose the right one. But don't worry, we are here to help you out.
We have handpicked the 5 best tablets under Rs. 50,000 based on their specifications, features, and performance. So, without further ado, let's take a look at the best tablets that you can buy in India under Rs. 50000.
There are a wide range of tablets available in the market from various brands. So, if you are looking for the best tablet under Rs. 50,000, here is a list of the top five tablets that you can consider buying:
The 9th-generation iPad resembles the 8th-generation iPad, which is (mostly) OK. The A13 Bionic chip offers the 2021 iPad the performance boost it needs to stay competitive, while iPadOS 15 adds more machine learning features like LiveText.
The screen on the iPad is still brilliant and vibrant, which is just what it needs at this price range. Apple is also keeping its first-generation Pencil and Smart Keyboard Folio, supported by Apple-made peripherals. Many people may find it easier to use than third-party Bluetooth choices.
Apple is also keeping its first-generation Pencil and Smart Keyboard Folio, supported by Apple-made peripherals. Many people may find it easier to use than third-party Bluetooth choices.
The Pencil will be useful for scribble-based annotation, and the keyboard will aid in utilising the increased keyboard shortcut functionality. The iPad's sound and battery life are still fantastic, and the only thing we don't like about it is that the iPad mini and iPad Air make it appear much older than it is.
Although further compatibility with Apple's nicer accessories would be nice, it still includes a headphone jack (which no other iPad has), which is a plus for those who like wired headphones.
You can grab Rs 3000 (discount during the offer period) + an Extra 2000 Off using Bank Card Transaction in this product.
The 8.3-inch Liquid Retina display on the iPad mini (2021) wifi + Cellular is more significant than the 7.9-inch screen on the previous iPad mini. The newest A15 Bionic processor, which is touted to give up to 80% quicker performance than the previous generation, is also used in the new model. The 12-megapixel Ultra Wide selfie camera on the new iPad mini has a 122-degree field of vision.
It also adds support for the iPad Pro's Center Stage. A 12-megapixel camera sensor is found on the rear, which is combined with a True Tone flash and supports Smart HDR and 4K video recording. Wifi 6 and 5G connections are available on the iPad mini (2021) wifi + Cellular. A 3.5mm headphone jack is lacking here, which isn't as significant on the phone but is certainly bothersome on an iPad. One of my uses was to watch movies or shows late at night, and not needing to charge Bluetooth headphones overnight was a huge benefit.
The power button doubles as a fingerprint sensor for Touch ID, and it works well enough, though Face ID would have been wonderful on this tablet as well. The volume buttons have been relocated to the top (in portrait mode) to create room for the Apple Pencil (2nd version), which attaches to the iPad mini magnetically.
The USB Type-C connector is located on the bottom of the device. The iPad mini features four speaker grilles, two on top and two on the bottom (in portrait mode), but unlike the Pro series, it only has two speakers; therefore, stereo sound is only available when the iPad mini is held in a landscape position.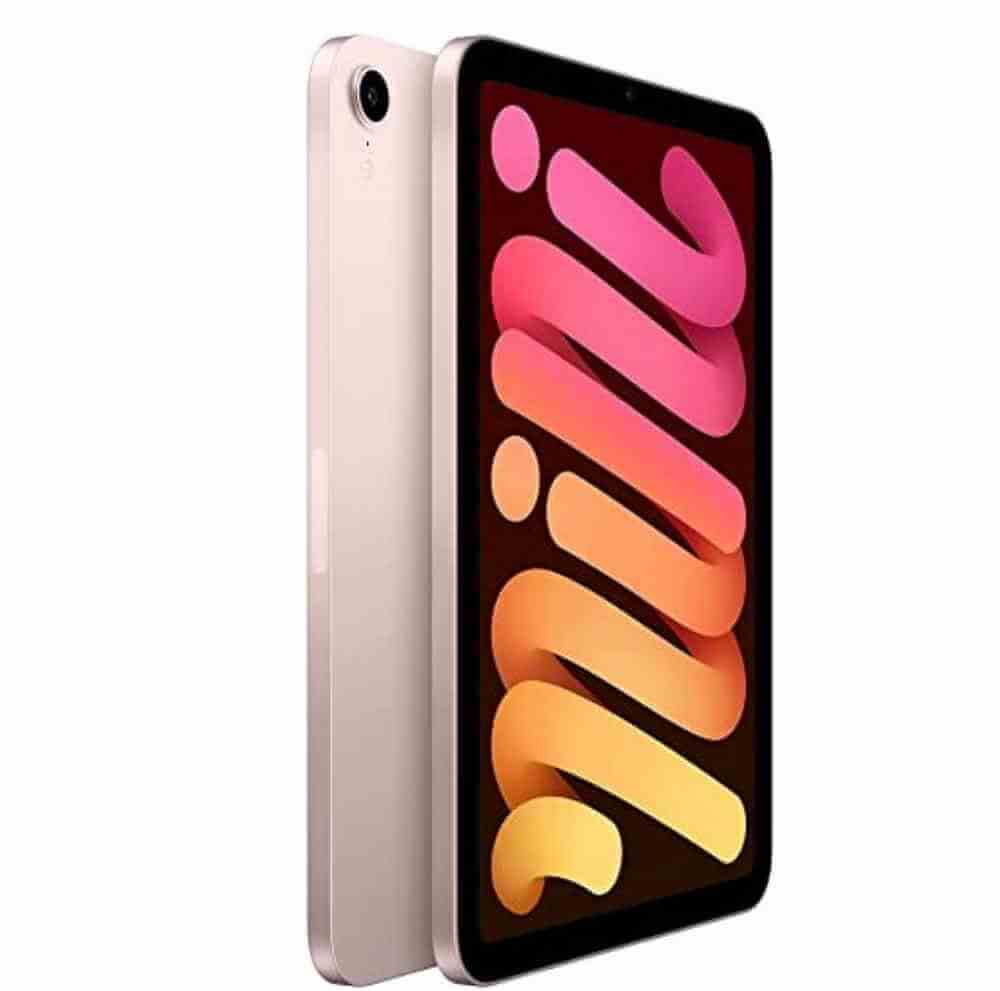 This is sufficient for viewing movies and playing the majority of games. The 12-megapixel rear camera also sports a True Tone flash and a 12-megapixel sensor. The remainder of the back is unadorned, but for a huge Apple logo in the centre. The new iPad mini sports an 8.3-inch display, larger than the previous 7.9-inch devices.
The Samsung Galaxy Tab S7 FE has a design identical to its more expensive siblings, the Galaxy Tab S7 and Galaxy Tab S7+, which means it is substantially "influenced" by Apple's iPad Pro tablet range. The all-metal body feels expensive, and this tablet, like the new iPad Air, comes in various colours, including Mystic Black, Mystic Silver, Mystic Green, and Mystic Pink.
Samsung delivered me a Mystic Black device, which appears to be more gunmetal than jet black, but I believe it looks great and doesn't show fingerprints or smudges. It is rather hefty at roughly 608g, making it difficult to carry and operate for lengthy periods. When the tablet is in landscape mode, two AKG-tuned speakers are arranged to provide correct left-to-right stereo sound. Although two fewer speakers are on the more costly Tab S7 variants, Dolby Atmos is still supported. There's a USB Type-C connector on the bottom, and on the left are contact pins and grooves for docking the Samsung Galaxy Tab S7 FE with a keyboard cover.
Like the Galaxy Tab S7+, the display is 12.4 inches diagonally with a 16:10 aspect ratio. However, the resolution is reduced to 2,560×1,600 pixels, and the display is LCD rather than AMOLED. The refresh rate is likewise the normal 60Hz, which is a letdown.
The panel remains bright, with excellent contrast and HDR films play smoothly. The bezels around the display are uniformly thick with rounded corners, providing a convenient spot to rest your thumb when holding the tablet.
The Qualcomm Snapdragon 750G SoC powers the Samsung Galaxy Tab S7 FE. This tablet only operates on 4G (LTE) cellular networks, unlike the phones we've examined with the same SoC. Cellular phone calls may also be made using the Galaxy Tab S7 FE.
Other connection options include dual-band wifi ac, Bluetooth 5, and the typical sensors and satellite navigation systems. The Samsung Galaxy Tab S7 FE has a 10,090mAh battery and supports rapid charging up to 45W, but you'll need to purchase a 45W charger separately.
The S Pen does exactly what you'd expect it to do. You can take notes, transform your handwritten writing into typed text, and use it almost anywhere with a text input area. Your pen-friendly applications and shortcuts are available with a fast push of the S Pen's button.
Samsung has bundled a limited-time subscription to premium creative applications like Clip Studio Paint and Canva Pro and some useful note-taking apps like Noteshelf and Samsung Notes.
The Surface Go 2 fits into the present landscape by removing bezels to accommodate a bigger screen in the same chassis. This Surface Move 2 review will explain why it's a great low-cost laptop for individuals working on the go and one of the finest tablets available today, thanks to better specifications over the original and an impressive camera.
While its Core m3 CPU outperforms the original Surface Go, it falls short when pitted against rival 2-in-1s in a friendly competition. The Surface Go 2 is 0.3 inches thick and weighs 1.25 pounds, making it less than half the weight of the Surface Pro 7. (0.3 inches, 1.7 pounds). It's also somewhat thicker and heavier than the Galaxy Tab S6 (0.2 inches, 0.95 pounds) and the iPad Air (0.2 inches, 0.95 pounds) (0.2 inches, 1 pound). When the Type Cover is attached, the thickness increases to 0.5 inches and the weight increases by half a pound, bringing the total weight to 1.75 pounds.
The 10.5-inch PixelSense display on the Surface Go 2 measures 1920 x 1280 pixels, significantly improving over the Surface Go's 1800 x 1200 10-inch panel. The larger screen area gives the tablet a more contemporary appearance, similar to the Galaxy Tab S6's smaller bezels.
The Surface Go 2's display is more vibrant than the Surface Pro 7's, producing 107 per cent of the sRGB spectrum (97 per cent). The iPad Air (132%) and Galaxy Tab S6 (122%), on the other hand, are even more vibrant. The Surface Go 2 has a maximum brightness of 408 nits. That's somewhat brighter than the 395-nit Surface Pro 7, but it's not as brilliant as the 425-nit iPad Air or 473-nit Galaxy Tab S6.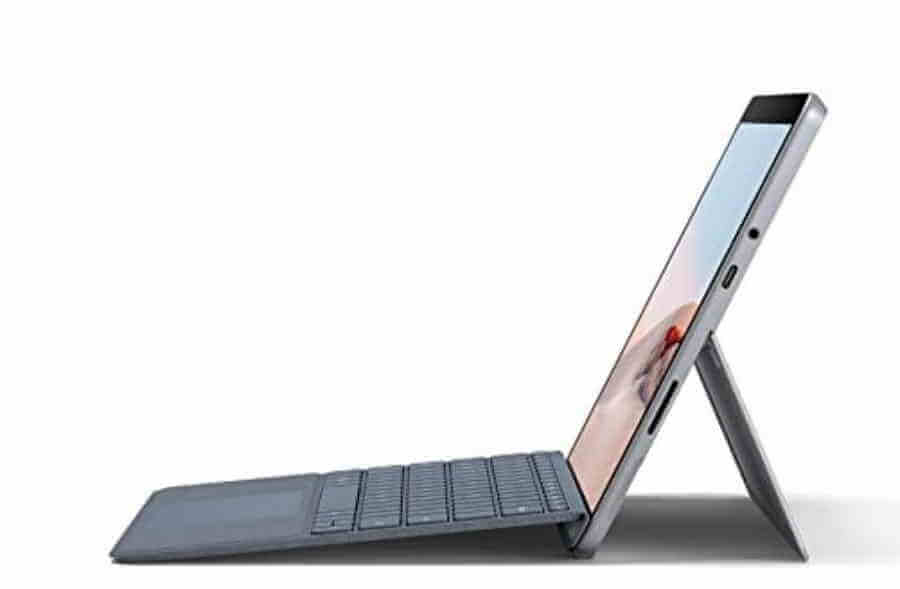 Although the Surface Go 2 can play music, it isn't a boombox. Its 2-watt stereo speakers support Dolby Audio Premium and have enough volume to fill my modest temporary workplace without being drowned out by the errant motorcycle outside.
Main Advantage
The new 10.5″ touchscreen starts at just 1.2 pounds (not including the Type Cover*).
Up to 10 hours of battery life[1]. It's ideal for surfing, shopping, sending emails, and doing schoolwork.
The Adjustable Kickstand and Signature Type Cover provide tablet mobility, performance, and laptop adaptability.
With a USB-C connector and a headphone jack, you can stay connected. Full HD front- and rear-facing cameras let you make crystal-clear conversations with friends and family and shoot and share stunning images.
The high-resolution touchscreen is ideal for web surfing, gaming, and binge-watching.
The Lenovo Yoga Tab 11 comes with 4GB of RAM and 128GB of storage in a single configuration. It's also only available in Storm Gray, the only colour option. The MRP of this product is Rs. 40,000, yet it is now available in India for Rs. 29,999.
The Lenovo Yoga Tab series has a distinctive aesthetic, and this latest model, like many of its predecessors, appears like an open book flipped over from the side. The cylindrical section is towards the bottom of the tablet when held in landscape mode, and it can help grip either hand when held in portrait mode.
There are two extra speakers (one on each side), bringing the total number of speakers to four. Two microphones are located near the 8-megapixel selfie camera on the top of the device. The consistent bezels surrounding the large 11-inch display aren't too large, but they're large enough to allow you to handle the tablet without touching the screen.
Lenovo has included a large 11-inch display with a resolution of 2000×1200 pixels. It's an IPS TDDI panel with 400-nit brightness and Dolby Vision compatibility. The MediaTek Helio G90T CPU and 4GB of RAM power the Yoga Tab 11. It also has 128GB of storage that can be expanded with a microSD card. Outside of India, Lenovo does offer an 8GB RAM with 256GB storage option. However, it isn't accessible in India.
There's also a 4G LTE connection, Bluetooth 5.2, and Wi-Fi compatibility. Lenovo has chosen a 7,500 mAh battery for the Yoga Tab 11, which comes with a 20W charger.
Lenovo has made only a few tweaks to Android 11 on the Yoga Tab 11. At the time of this review, it was running the July Android security patch, which is old. A few Google and Microsoft programmes, as well as some others Netflix, are preloaded.
Lenovo's user interface is simple and easy to navigate. While using the Yoga Tab 11, I did not detect any latency. App load speeds were reasonable, and I could multitask between a few applications without difficulty. A couple reloaded when I opened them, indicating that they hadn't been kept in memory in the background.
The Yoga Tab 11's battery life was excellent, lasting 3-4 days on a single charge. I spent three hours watching YouTube videos, reading Reddit, and playing casual games daily. I discovered that idle power consumption is minimal, allowing the tablet to survive an extended period on a single charge.
Conclusion
In conclusion, there are great options for tablets under Rs. 50000. Each device offers something unique, making it a great choice for different people. Whether you are looking for a powerful device with a large screen or one that is more portable and easy to use, there is sure to be a tablet that fits your needs and budget. So, what are you waiting for? Give one of these tablets a try today!